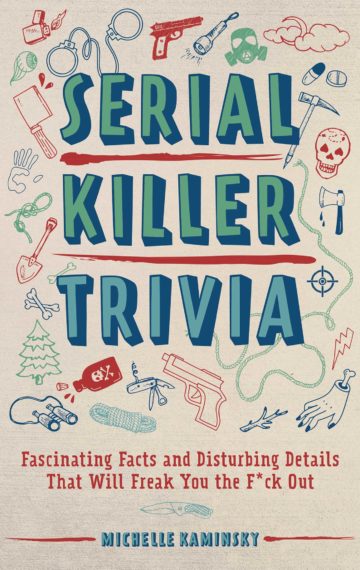 $14.95
Publisher:

Ulysses Press

Available in:

Paperback, Kindle

ISBN:

978-1612438672

Published:

July 22, 2019
Amazon
Barnes & Noble
Simon & Schuster
Discover chilling and mind-blowing facts in this ultimate collection of serial killer trivia for true crime fanatics.
This bloody and completely true trivia collection will horrify and intrigue readers, with answers to questions like "What was John Wayne Gacy's last meal?," "Which serial killer was captured because of a bloody footprint left on his victim?," "Who was the FBI agent credited with coining the term 'serial killer'?," and "How was one mass murderer able to get away with selling his victim's skeletons to medical students?"
Perfect for any murderino, true crime junkie, or connoisseur of macabre tales, this fact-packed book quizzes readers on their true crime knowledge and offers fascinating stories of well-known murderers as well as lesser-known, but just as nefarious, killers. You'll be surprised at how many fascinating tidbits you'll learn about the world's most cold-blooded and dangerous people.
 Sampling of 5-star Amazon reviews:
"This book is sick, twisted, and perfect for any true crime junkie. It's fun and horrifying all at the same time. This one gets a ticket to god 😉 #ifyouknowyouknow." – Danie
"An excellent, interesting, and terrifying read. This is definitely perfect for any true crime fan in your life." – Gabi
"This is the best book I've read in a long time! Easy to read, so much variety! I finished this book in a weekend but because instead of binge watching Netflix I was HOOKED on this book! Now I'm trying to find more from this author!" – Allison
"The writing was spot-on and I loved the layout. It was broken down into easy to read segments making it perfect to read a little at a time with the morning coffee! I'd totally buy another book from this author." – a face in the crowd
"Spooky great read!" – Jenne79